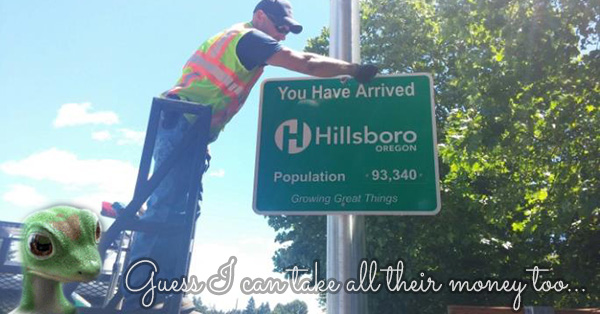 It's all a lie…
You see this computer generated lizard on advertisements on Hulu, YouTube, TV, bus stops, magazines…
The truth is this.
YOU'RE PAYING FOR ALL THOSE ADS
They don't want you to shop around. None of the big companies do!
They say they can save you money in a short period of time, which sounds great. But they won't. Except maybe they will save you a little money if you switch from Big Insurance A to a different Big Insurance B. But they can't give you the deals that an insurance broker can.
Bill Higley Insurance can get you the cheapest insurance in Hillsboro.
Cheapest Auto Insurance
Cheapest Business Insurance
Cheapest Contractor Insurance
Cheapest Home Insurance
Cheapest Renters Insurance
We can get you the best rates on almost any kind of insurance and almost any amount of coverage, because we're insurance brokers. NOT insurance agents.
Let me explain…
An AGENT works for a single insurance carrier and sells you whatever they offer.
A BROKER can shop lots of insurance companies and get you the best deal.
Bill Higley Insurance is an insurance broker, with decades of experience to get you the cheapest insurance in Hillsboro, Oregon. Or anywhere in Oregon.
Here's How It Works
Call Bill Higley Insurance at 503-648-4010 (habla español)
We find you the best deal.
Think about what you're going to do with all your extra cash.
You could keep paying Big Insurance to create commercials with computer generated animals and run them at $4 Million a pop during the SuperBowl….
or you could call Skip and his team at Bill Higley Insurance, located on TV Hwy IN HILLSBORO.
It's YOUR CALL!
It's all a lie... find out how to REALLY get the cheapest insurance.
Click To Tweet